SHARED BRANCH AND SERVICE CENTERS
If you are a full fledged* member of Union Building Trades FCU you are eligible to partake in the network of locations for easier access to your funds.. Credit unions across the country are sharing offices where you can conduct transactions just like you do at Union Building Trades FCU.
There may be an office near your home or business or in a city you're traveling through. Most Shared Branch Center transactions are FREE. Eligible members who have completed a membership application with UBTFCU can visit a location nearest you.  Make sure to have your account number and a valid form of ID to access your account. It is that simple! Call us for a location or click HERE for the one nearest you.
This service is only available to full fledged members of Union Building Trades. *To become a full fledged member please verify that your union is part of our credit union then complete the required membership enrollment process.   Its that simple!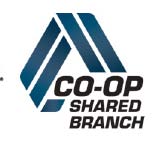 Click Icon for list of locations
Our Direct Service Center locations :
---
BRIDGETON ONIZED FCU   (856) 692-4000
 2550 SOUTH MAIN RD  VINELAND, NJ
BRIDGETON ONIZED FCU   1 888 896 4007
524 PEARL STREET, BRIDGETON NJ
Account Balances not given over phone/In person only.           Hours and Info
CENTRAL JERSEY FCU  (732) 634-0600
 380 BERRY STREET, WOODBRIDGE, NJ.  (this location only)
Monday, Tues, Wed & Friday 9am to 5pm -Thurs 8am to 6pm -Sat 9am to 12pm
---
---
PARSIPPANY MAIN OFFICE-800 848 2438
205 Cherry Hill Rd
Parsippany, NJ 07054
Office Hours   
Monday – Thursday: 8:30 am – 5:00 pm
Friday:                        8:30 am – 4:30 pm
DELAWARE LOCATION-(302) 322 5086 

 814 W. Basin Road
New Castle, DE 19720
Office Hours
Monday – Friday        8:30 am -4:15 pm
No Cash transactions at this location